A Very Special Production Day
What an amazing feeling to bottle your first vintage. Watching your label go on a bottle, full of the wine you spent the last year with so intimately. The bottles rattle down the line in mass, lifted and placed into cases and then rumble down the rollers to be palletized.
Cases in form, ready to hit the streets and find their fate, find you. How exciting to know that the wine made it and my part for this vintage is over. Not many things in life press a permanent smile onto the face, this experience does! The smile is still on my face.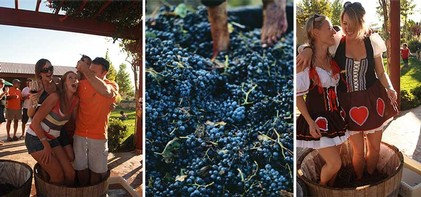 After all the excitement and thrill, this experience comes down to the people involved. First and foremost Andrew... he didn't just open their winery to me, they made me believe. Believe that this dream was possible! Thanks to them for keeping me from running back to the mountains. The growers, Peter and Jason that took a chance on me making wine out of their fruit, their hard work.
Then there are all the great people you meet along the way, other people who make wine, people that come by the winery to taste and share their story, people who help during harvest and bottling just because they want to be involved in wine. It is all these people who make this experience all the more amazing. Thanks!
Comments
ShowBox app is one of the best entertainment app to watch all your favorite movies and TV Shows in Android OS. This app is video streaming app to ocular and download your favorite stuff within your android phone without even paying a penny. That means this app is free.
Commenting has been turned off.